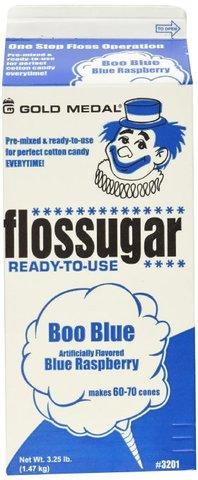 Blue Raspberry Cotton Candy Floss
Cotton Candy is AMAZING. You know you love the smell of this sweet treat as you walk through a carnival midway.
Blue-Raspberry Cotton Candy is our 2nd most popular flavor. The color is a nice pretty blue and tastes yummy.
Each additional order of floss sugar comes with 1 quart of floss and 50 cones. 1 quart is enough for 50 large cones or many more smaller ones. We like to write names on the cones and tell the kids at our parties to save their cone so we can give them several servings. This works about half the time--but heck, it saves a few cones and you can keep serving it up without running out and the kiddos are happy!
Try all the flavors, they are super yummy.