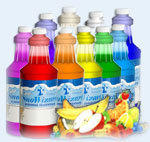 Blue Raspberry Sno-Cone Flavor
Blue Raspberry sno-cone syrup is just like raspberry flavor with a little more "RAZZ". The color is a bold blue and is delicious.
This is very intense flavor and is like you find at professional shave ice shacks. The color is VERY intense also--meaning don't let your kids eat it in their favorite white shirts without having the spray and wash handy.

All flavors can be made sour (+$0.50) or sugar free ($5.00).
To order sugar free, please call 435-843-1500 24hrs in advance.

Not sure which flavor to try, consider getting a mini-bottle and you can test the waters without committing to an entire quart.